Wie halten wir etwas aus, das eigentlich nicht auszuhalten ist? Wie verändern wir etwas, das wir alleine nicht ändern können? Und wie werden wir zu etwas, das wir nicht sind?
Soya the Cow versucht das Unmögliche. Als speziesfluide, vegane Drag-Kuh steht sie für Liebe, Freiheit und Klimagerechtigkeit für alle Lebewesen. Mit scharfen Argumenten und berührenden Songs rüttelt sie am Selbstbild des Menschen als Zentrum des Universums, dem alles Nicht-Menschliche unterworfen wird. Tief verwurzelt im fundamentalen Unbehagen eines einzelnen Individuums wächst Soya über die menschliche Begrenztheit hinaus, kann Popstar und Heiler*in, Aktivist*in und Clown, Gegenwart und Zukunft sein.
In seiner neuen Solo-Performance Dear Human Animals bringt Daniel Hellmann die ganze Kraft und Lächerlichkeit seines kuhgewordenen Weltveränderungswillens auf die Bühne und eröffnet einen Erlebnis- und Reflexionsraum für transformatives Handeln.
Als Rahmenprogramm finden über die Spielzeit verteilt Workshops und Exkursionen mit Soya the Cow statt, in denen das Publikum und weitere interessierte Menschentiere die Realitäten kennen lernen können, die Soya hervorgebracht und mitgeformt haben - vom Schlachtbetrieb bis zum Lebenshof.
Dauer: 90 Min.
In deutscher Sprache
In englischer Sprache
Alter: ab 13 Jahren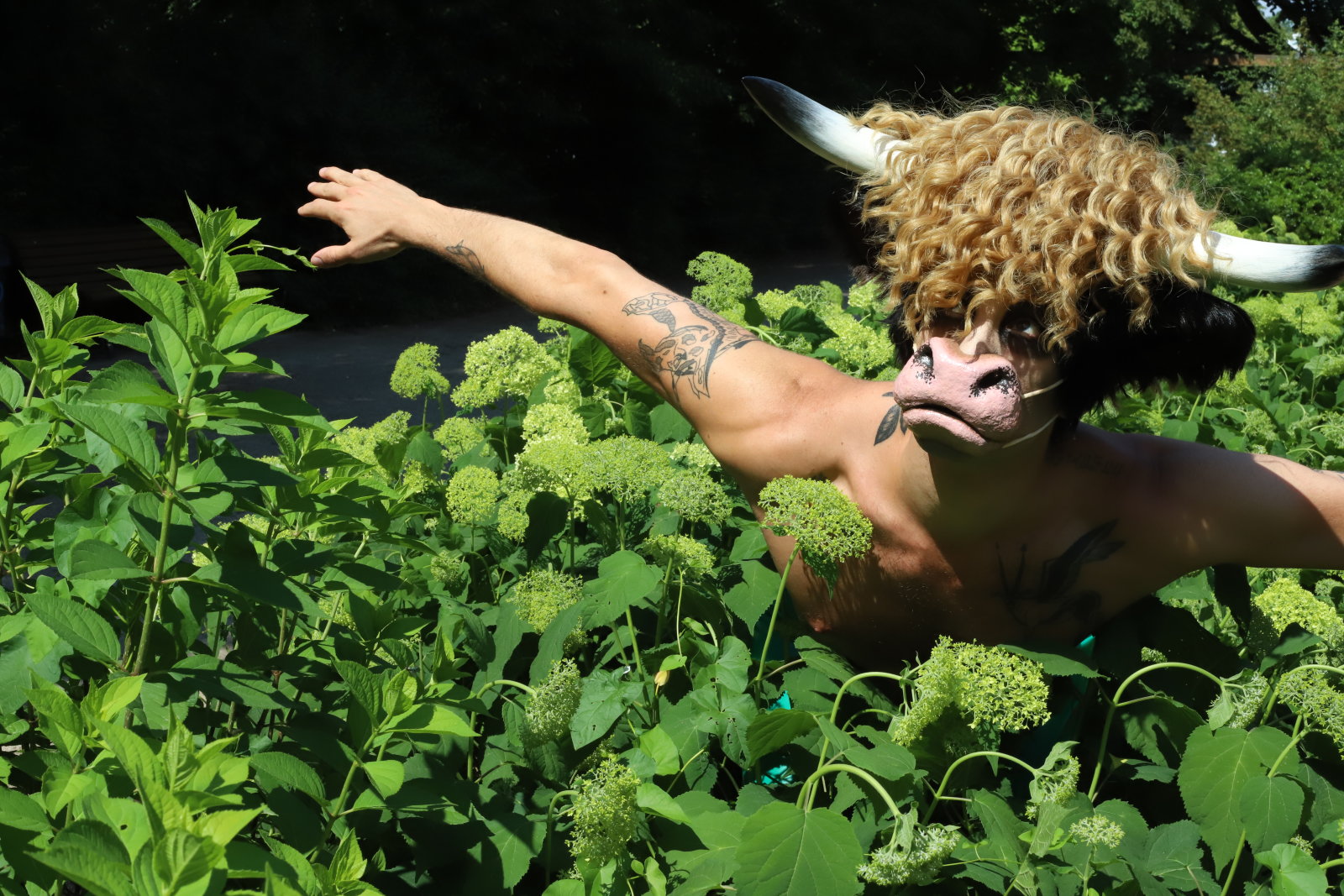 | | |
| --- | --- |
| Konzept, Text, Künstlerische Leitung | Daniel Hellmann |
| Dramaturgie | Daniela Lehmann |
| Musik | Philipp Constantin |
| Kostüm | Ran Chai Bar-Zvi |
| Bühnenbild + Lichtkonzept | Theres Indermaur |
| Video | Nora Smith |
| Kostüm/Masken | Nadja Jeberien |
| Assistenz | Quentin Barthassat |
| Oeil extérieur (Tanz) | Marion Zurbach |
| Oeil extérieur | Anne Welenc |
| Diffusion | Florence Francisco |
| Administration | Regula Spirig |
| Produktionsleitung | Patricia Bianchi |
| Voice Over | Emily Magorrian |
| | |
| --- | --- |
| Co-Produktion | Gessnerallee Zürich, Schlachthaus Theater Bern |
| Unterstützt durch | Stadt Zürich, Kanton Zürich, ProHelvetia, Schweizerische Interpretenstiftung, Nestlè pour L'Art |