"But the bell in itself was a species of shrine, it was a roof to shelter the supernatural Power, and an instrument by which that Power might function."
Bernard Fielding: The Occult Lore of Bells
Softly it sounds, rings, resonates, reverberates. Something metaphysical always resonates from within. The bell heralds new eras, the school lesson, the break. It interrupts and marks the moment when something else comes.
Ding Dong. Since time immemorial bells have marked transitions between life and death, everyday life and celebration. Births and funerals, holidays, weddings, and other disasters. Everyday life in the field, in the factory, in the monastery: centrally regulated by the bell. Back then, before there were wristwatches. Now that ring-ding-dong tones penetrate every corner and take part in each moment, the way this happens is less centrally controlled and somewhat more, de-regulated.
Ding Dong. When the bell struck twelve times, the princess turned into a werewolf and interruption into continuity. Or how did that go again? It interrupts. It separates what was before from what comes after. Usually, it is only time itself that has the capacity to constantly interrupt the continuity of things. Ding Dong: Interferences and resonant frequencies.
Lucie Tuma & Co use the physics and materiality of bells as the springboard for a journey to Ding Dong. Not a country, not a place, but rather a temporality in which space gets stretched and squeezed. Shimmering bells, several bodies on stage, four of them human. It vibrates, dances in unison, speaks chorally, sounds good and smells even better. Then it rings. The intervals between the interruptions are shrinking and from interruption continuity emerges. Then it rings. In the aftermath: resonance chambers, the echo of a celebration, the alarm is over. We can return to the theater.
Further notes:
As part of the Open House events, Lucie Tuma's team will give a resonant, fragrant foretaste of the production with the Ding Dong Dome right at the opening.
On Sunday 27.09. the performance of Ding Dong is part of the Gessi Generation Family Afternoon Doing Ding Dong. The Gessnerallee and the team of Lucie Tumas Ding Dong invite young and old to get into the right mood for the performance at 2 pm in the run-up to the show.
On Tuesday, 29.09. it is possible to visit Ding Dong as an intergenerational tandem. Here](https://gessnerallee.ch/de/event/233/event) you can find out more about it! Following the performance there will be a [Dance Night] (http://tanzlobby.ch/tanznachtisch/) under the direction of Tina Mantel, Dance Dramaturg.
The performances of 25. and 26.9. are part of the festival fleshy interface, which takes place between 21.-27.09. at different institutions in Zurich. If you would like to visit other festival events besides this one, you can find here information about the program and festival pass.
🔔
COVID-19 Info: Mask obligation, distance can be kept. Contact tracing via ticketing.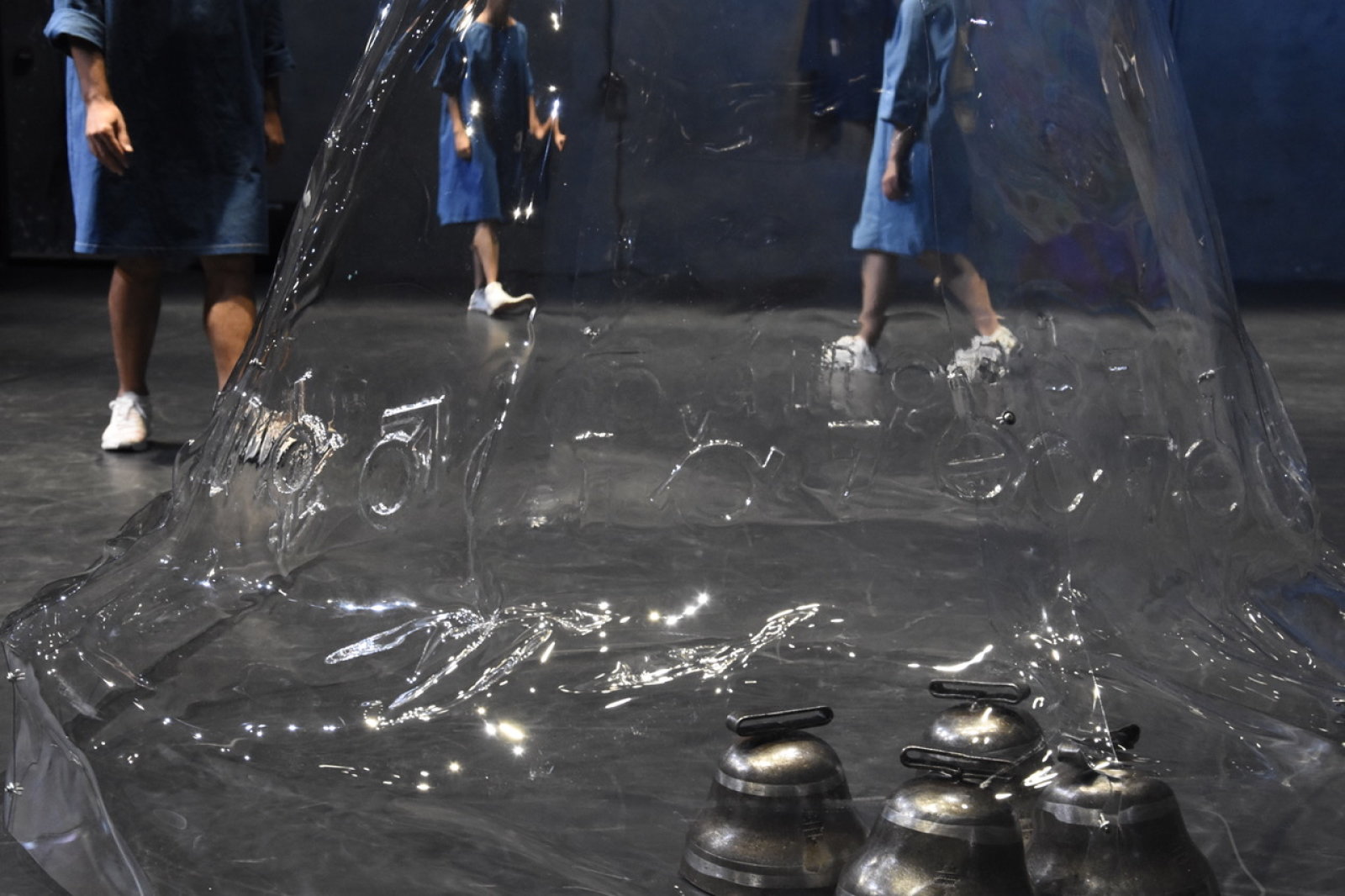 | | |
| --- | --- |
| Ding Dong: | by Lucie Tuma |
| By and with: | Christa Frei, Susanne Affolter, Lyn Bentschik, Patricia Bianchi, Daniel Goody, Claudia Hill, Kiran Kumar, Julie Laporte, David Marques, Eva Nievergelt, Caroline Palla, Aga Pedziwiatr, Riikka Tauriainen, Lucie Tuma, Kathrin Veser |
| | |
| --- | --- |
| Production: | Lucie Tuma |
| Co-production: | Gessnerallee, CCN Ballet de Lorraine Nancy |
| Supported by: | Stadt Zürich, Kanton Zürich, Migros Kulturprozent, Stanley Thomas Johnson Stiftung, Tanzhaus Zürich, Ernst Göhner Stiftung, Schweizerische Interpretenstiftung, Elisabeth Weber Stiftung, Nestlé pour L'Art, Stiftung Anne-Marie Schindler |
| Thanks to: | Julien Annoni & Usine Sonore Biel, Antonija Livingstone, Cecilie Ullerup Schmidt |