An eerie voice echoes in a palace: "It's me! The real one, me!" The court community, half murder pit, half kindergarten, can't believe their eyes and ears: outside, a muddy, barely intelligible figure rumbles against the gate, claims to be the right one and demands entry. Everyone in the palace is thinking of the queen's son, who once went out to find just that: the right one ...
ERBSE is a witty and wicked take on H.C. Andersen's fairy tale The Princess and the Pea. Teuwissen shakes up the well-known original. In Andersen's tale, the queen hides a pea under many, many mattresses in order to find out whether the stranger is a sensitive princess. In this play, the pea becomes an instrument of unmasking: the palace is put to the test and the stranger acts, affects and directs in the game for dignity and power.
The Schalktheater, directed by Mélanie Huber, premieres ERBSE and asks with mischievousness and subtlety about the vices and virtues that unite us despite all differences.
Audio-Einführung von Dramaturgin Anastasia Ioannidis
Musik: Rahel Zimmermann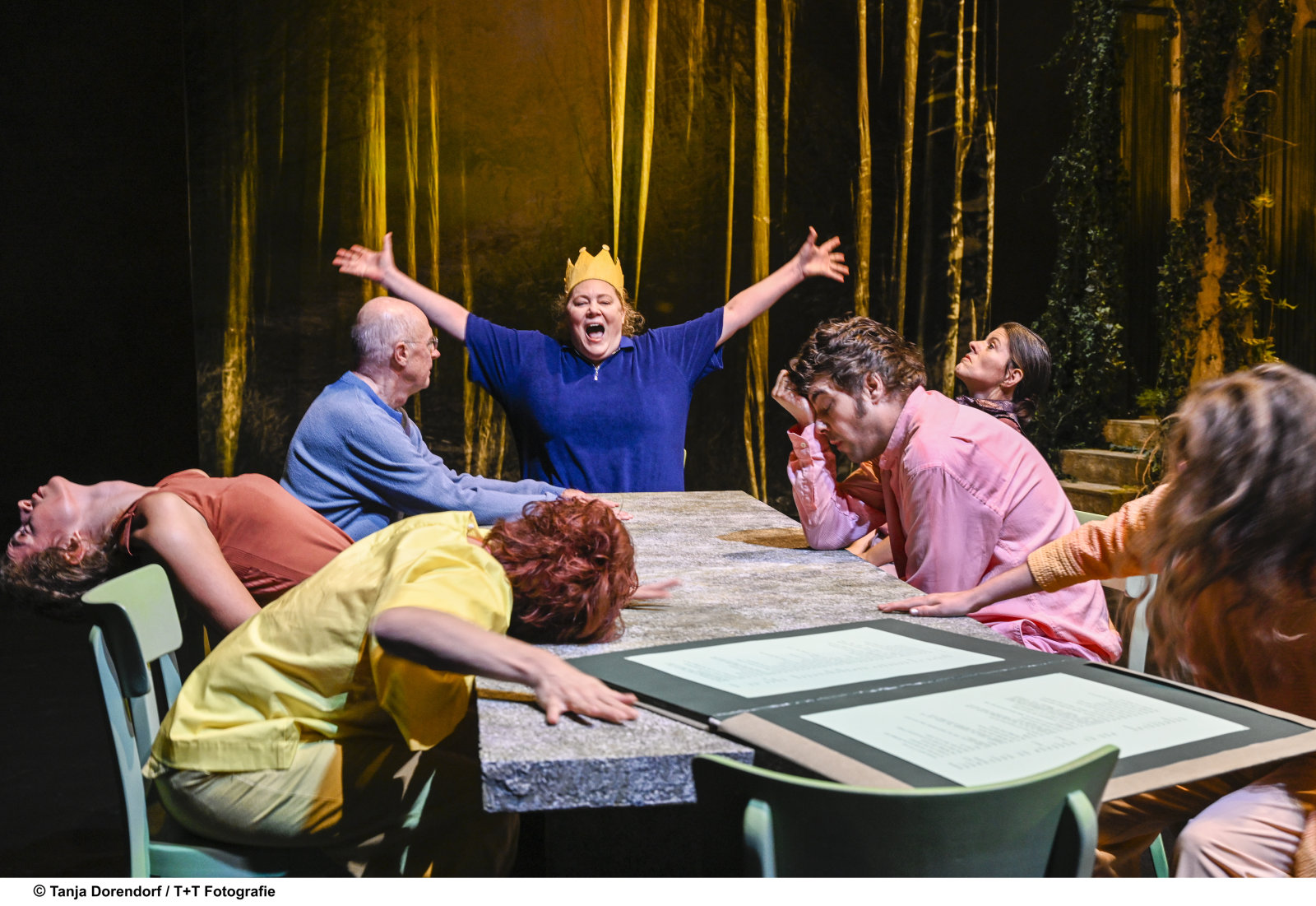 © T+T Fotografie, Tanja Dorentorf
© T+T Fotografie, Tanja Dorendorf
© T+T Fotografie, Tanja Dorendorf
© T+T Fotografie, Tanja Dorendorf
Set
Filip K. Birchler
, Geraldine Breuleux
, Sara Gossweiler, Nora Tosconi, Nora von Schrottenberg
Lea Hesse, Horst Knörrer
Guests
Mélanie Huber
Dramaturgy
Anastasia Ioannidis
Stage Construction Workshop Gessnerallee
Kurt Brun
Stage and costume design
Nicole Hoesli
Assistant stage manager
Martina Jackson
Internship costume
Pia Schober
Choreography
Joanne Willmott
Music
Rahel Zimmermann
Lightdesign
Robert Meyer
Photography
T&T
Assistant Director
Lea Hesse
Production management
Alexandra Siegenthaler
Overall management Schalktheater
Nina Hesse Bernhard und Matthias Huser
| | |
| --- | --- |
| Supported by | Kanton Zürich Fachstelle Kultur, Stadt Zürich Kultur, Migros Kulturprozent, Stiftung Symphasis |