We descend into a night of pleasure. Criptonite is a crip-queer theatre project by Edwin Ramirez and Nina Mühlemann. In their current manifestations as Dionysos and Medusa, they invite the audience into the underworld. Surrounded by the rivers of hatred, wailing, fire and oblivion, we find ourselves on the islands of pleasure, celebrating the intersection of pain, pleasure and kink. What does it mean to negotiate consensual giving and receiving together in a pleasurable way, through movement and care? Where do we find moments of pleasure despite pain or exhaustion? On a big soft bed, we interweave Greek mythology with our own experiences and blur the boundaries between mythical creatures and self, lust and shame and sensuality and monstrosity. With sensual guest for your pleasure from:
02.02. Lovis Heuss aka Justin Bellini Case // Sofiyan Junis Merzougue
03.02. Nele Solf // Horny Drags alias Coochie Waters und Bartli von Glitzer
Consensual interactions with audience volunteers. consensual slapping/spanking on stage. These sequences will be announced before they happen.
The February 2 performance will also be live streamed. The Online-Ticket is available now!
German with English and descriptive surtitles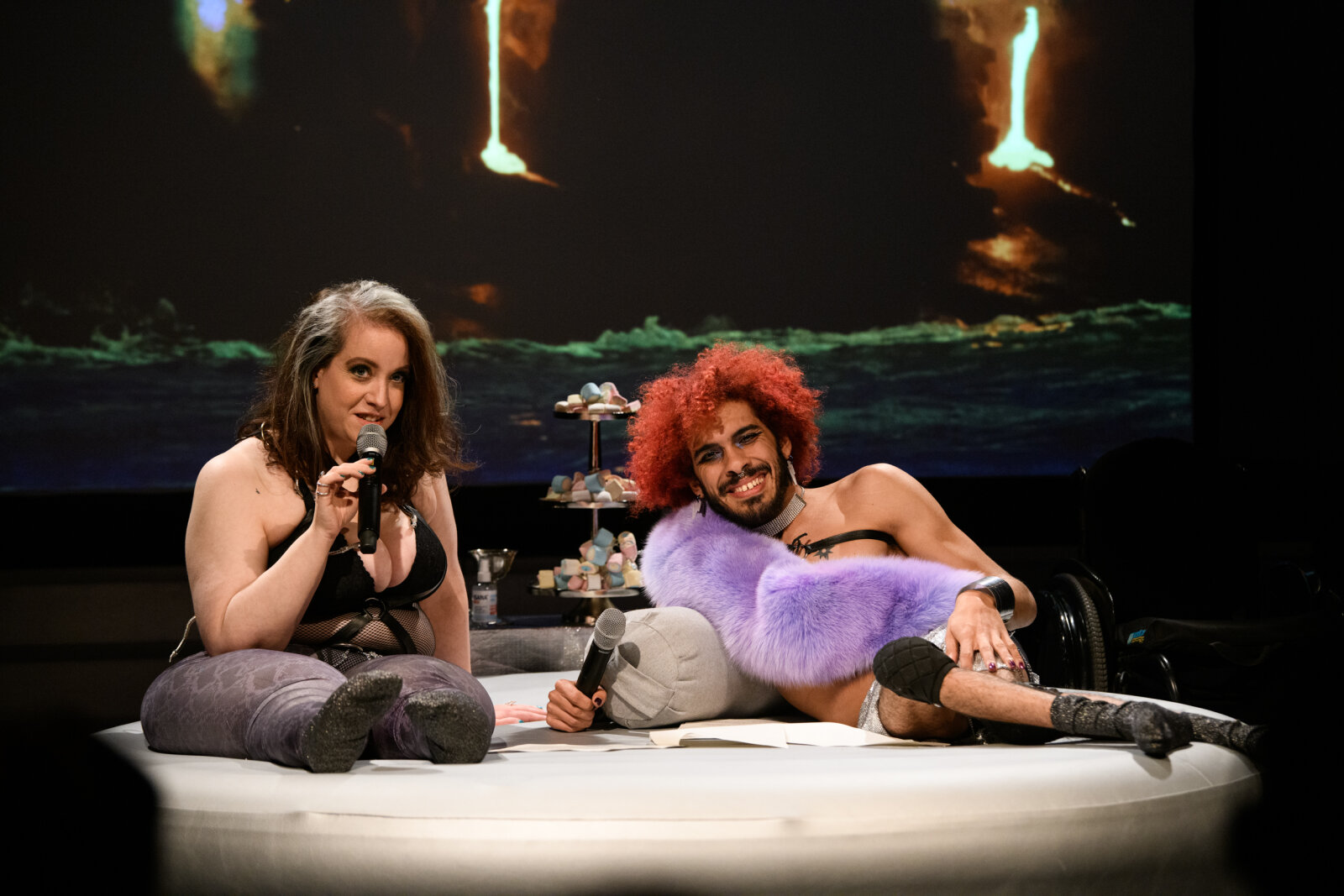 Nina as Medusa and Edwin as Dionysos, lounging on a round silver bed in the middle of a stage. Medusa is sitting upright and speaking into a microphone. Dionysos is on the right, lying on their side towards Medusa and watch the audience with a benevolent smile. Behind them is a projection of dripping lava as well as a towering plate with pastel marshmallows. © Jean-Marc Thurmes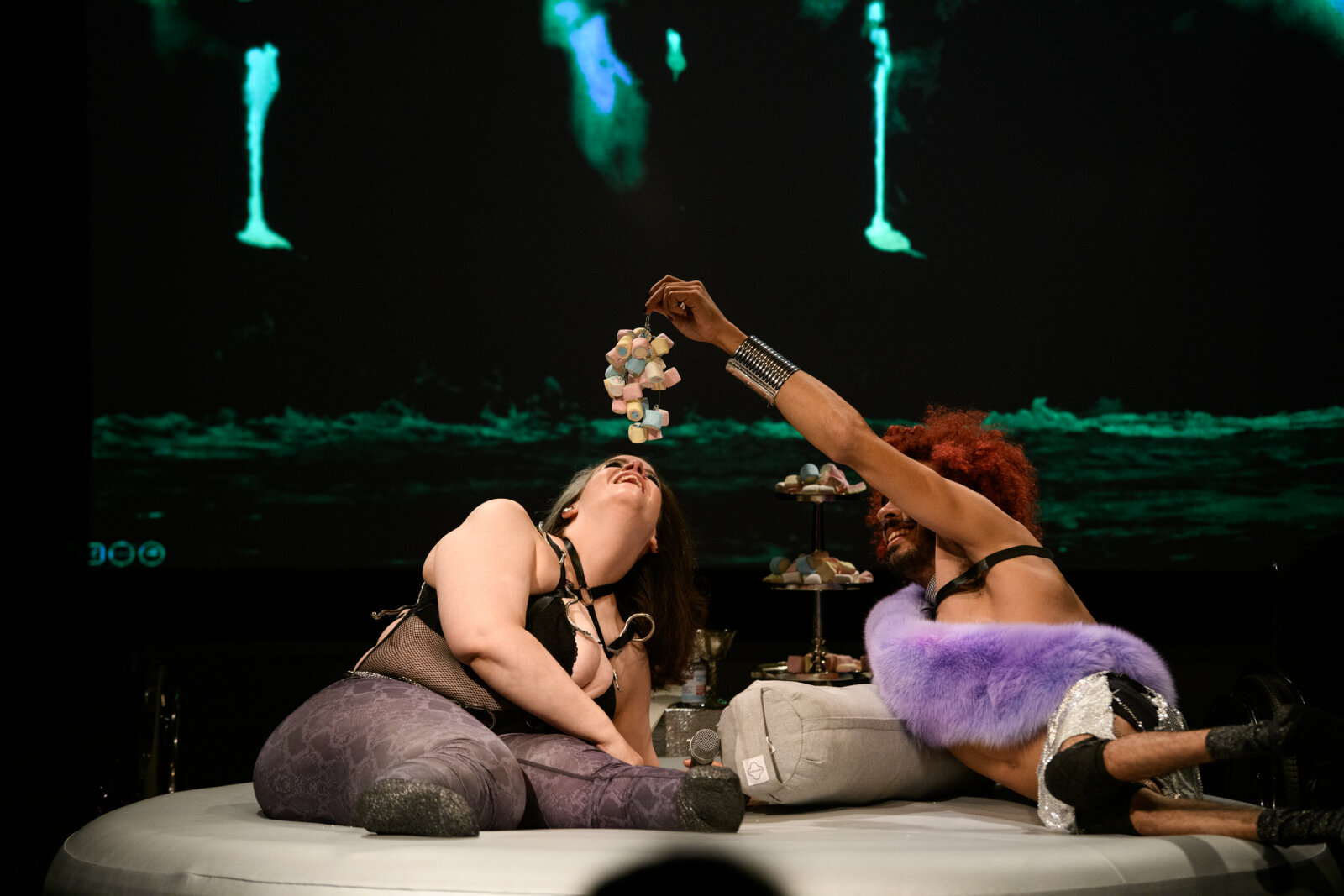 Nina as Medusa and Edwin as Dionysos, lounging on a round silver bed in the middle of a stage. Medusa is on the left, Dionysos on the right. Dionysos is playfully holding up a bunch of pastel marshmallows which are tied together to resemble a vine of grapes. Medusa is stretching her upper body and has her mouth open in the hope to catch a marshmallow and bite it off.
Medusa is a white person with a short round body and long wavy brown hair with chunky silver-blue streaks. Her eyes are heavily made up in green. She is wearing a harness net body, showing a lot of milky skin, with some thin silver snakes woven into the straps, nestling into her chest. She is also dressed in grey-blue snakeskin leggings and silver socks. Dionysos is a small skinny brown-skinned person with a big red afro, a short black beard and bold dark eye makeup. They are wearing a lilac furry sash draped over one shoulder fastened with a harness, leaving half of their upper body exposed, a sparkly silver loincloth, black knee pads and silver socks. © Jean-Marc Thurmes

Nina Mühlemann, Edwin Ramirez
Kathrin Veser
Sophia Neises
Alessandro Schiattarella
Camille Jamet
Sarah Schoch
Susanne Affolter
Marek Lamprecht, Iris Rohr
Theres Indermaur
Ernestyna Orlowska
| | |
| --- | --- |
| Co-Production | Gessnerallee Zürich, Tanzhaus, Freischwimmen Netzwerk |
| With the support of | Stadt Zürich Kultur, Migros Kulturprozent, Ernst Göhner Stiftung, Dr. Hedwig Stauffer Stiftung |