PARIALIAH centers the need of care and well-being of non-white and differently non-conforming bodies within nightlife, a nightlife where pressure and expectations are left at the door and access is available to everybody and held through community, the collectively created space. Poetic lyrics of trans feminine pussy empowerment and grieving lullabies in farsi language will create a landscape in which Parisa carefully hypnotizes the audience into a fantasy world of abundant rest.
PARIALIAH invites to dive into a world of dreams and careful hypnosis away from struggles of everyday-issues caused by imperialist white-supremacist, capitalist, hetero-, cis-, sexist and patriarchal societies. PARIALIAH invites the audience to surround the performance and experience the show on pillows, mats, carpets with possibility of different seating options (chairs/couches) accommodating different mobilities. It is an invitation to rest collectively.
Keywords are love, friendship, trust, care, revolution, injectable estrogen, imagination, exercise, meditation and showgirls.
Open for all!
content note: very emotional and personal with stories of family and cultural heritage. Might be triggering tears of memories and joy. (the performers usually cry on stage)
Bring the following goodies and have the entrance guaranteed
pyjamas (long sleeved, lingerie, warm socks) sweaters, comfy clothes
pillows
blankets
sleeping bag
snacks (fresh cut veggies, fruits, nuts) drinks (tea, lemonade, champagne) crystals
family photos
water color + brushes, finger paint oils, perfumes, lotion
hair brush
tooth brush + paste, floss
sponges, face towels, tissues
friends, kids, nanas, neighbors, dates
with afterchill until 11pm
In german language
In english language
Farsi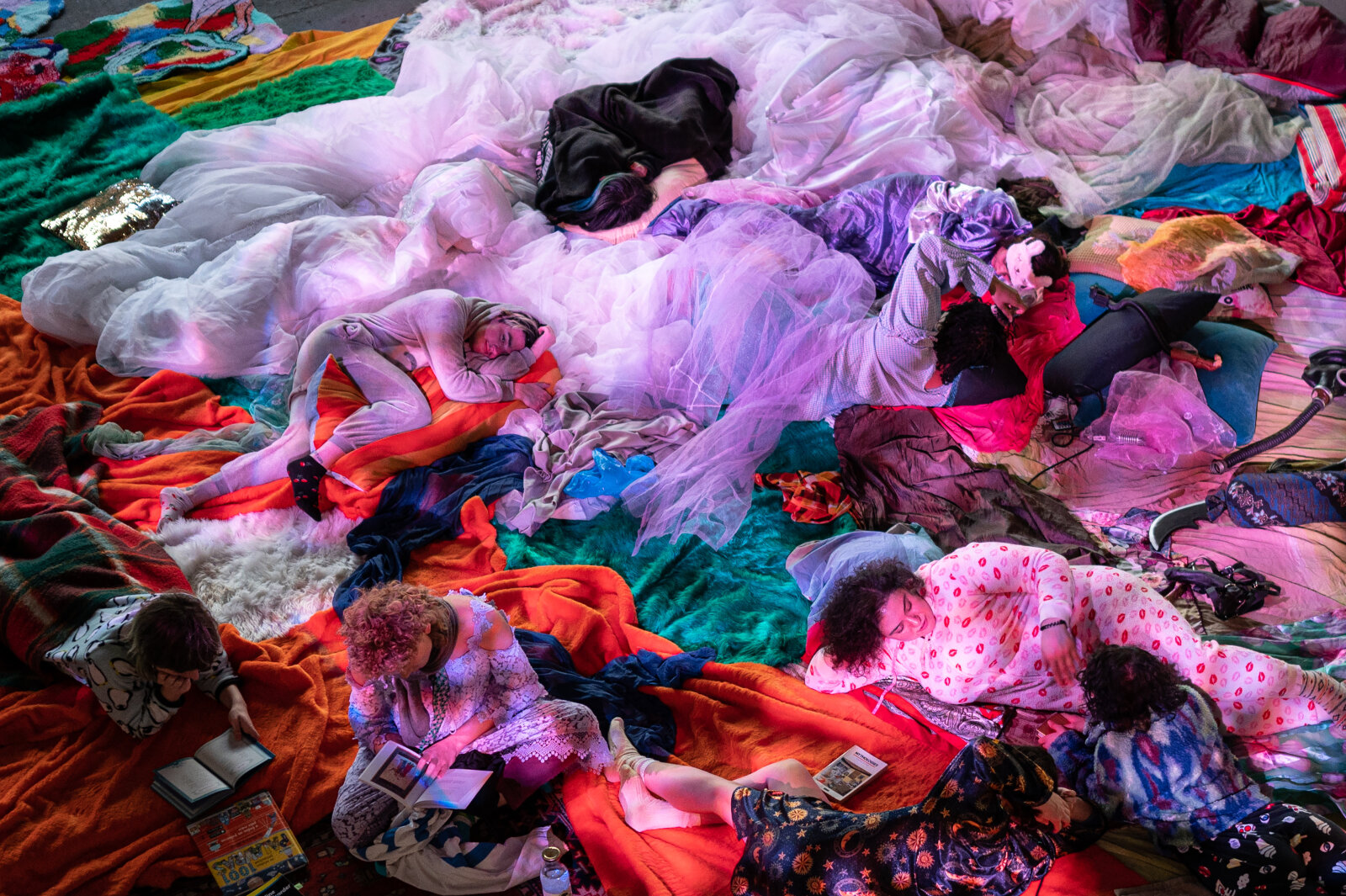 | | |
| --- | --- |
| Performance by | Parisa Madani (age unknown) // PSORIASIS (RIP) aka B1tXX3$K?LLAH* fka the Persian Princis from the Gorgeous House of Gucci and the Iconic Hall of Fame Kiki House of Juicy Couture Muva Bubu Pillow Talk Say Ha Name بھ پاریستان خوش آمدید |
| Dreamy landscape by | Chanel Kah Yin Liang Owner and Creative Director of Chakahlia, a company that provides Visual Communication and Social Media services to corporate media and fashion clients. |