The site-specific drama project Stock Exchanges Trade traces how global stock exchange trading determines our lives - along the history of the Zurich Stock Exchange and across the rooms of the Finance Museum and the SIX stock exchange. The audience is guided by electronic music and museum guide Dominique Theiler via headphones. Investment strategies, financial instruments such as derivatives and options, and the new, digitalised crypto assets known as "tokens" are explained. Models show how the disembodiment of the stock exchange is proceeding: While trading "à la crié" on the stock exchange ring was still central to the construction of the "New Zurich Stock Exchange" at the beginning of the nineties, today it is equal access to fibre optic networks and the evaluation of data streams by artificial intelligence. The stock exchange has become intangible. Microseconds, algorithms and high technology determine trading.
How can we, as investors, still make predictions in such an environment? After all, it is increasingly our behaviour itself that is predicted by large corporations and turned into a commodity. What happens to the promises of transparent market pricing and relevant innovation? No sooner does Museumsguide Theiler ask these questions than the timeline collapses: The market comes to a standstill. Is this one of the infamous flash crashes in which trading algorithms run amok and drag prices into the abyss? Or is it a sign of a deeper disruption of the markets? An innovation that is indigestible for all market participants? With Elodie Nah, an expert on digital investments, an investigative figure enters the scene. She is suspicious of the goings-on of museum employee Theiler. But when she herself goes public in the vacuum of stagnant time to explore the technological inner workings of the stock exchange, it becomes apparent that she, too, is not who she seems to be. A new interplay between artificial-intelligent and human control becomes increasingly apparent. And the attempt to set the markets in motion again leads to surprising perspectives.
As a science fiction narrative, Stock Exchanges Trading bundles insights into the origins and outlooks into the promise of stock market trading. At a time when everything up to old-age provision is delegated to the stock exchange, the project proposes a critical redefinition due to the looming ecological and technological upheavals. And Trading Stock Exchanges asks who has controlled and will control trade in the globalised world - between North and South, East and West - and by what means. A new era is beginning.
Venue:
Swiss Finance Museum
Hard Tower Park
Pfingstweidstrasse 110
8005 Zurich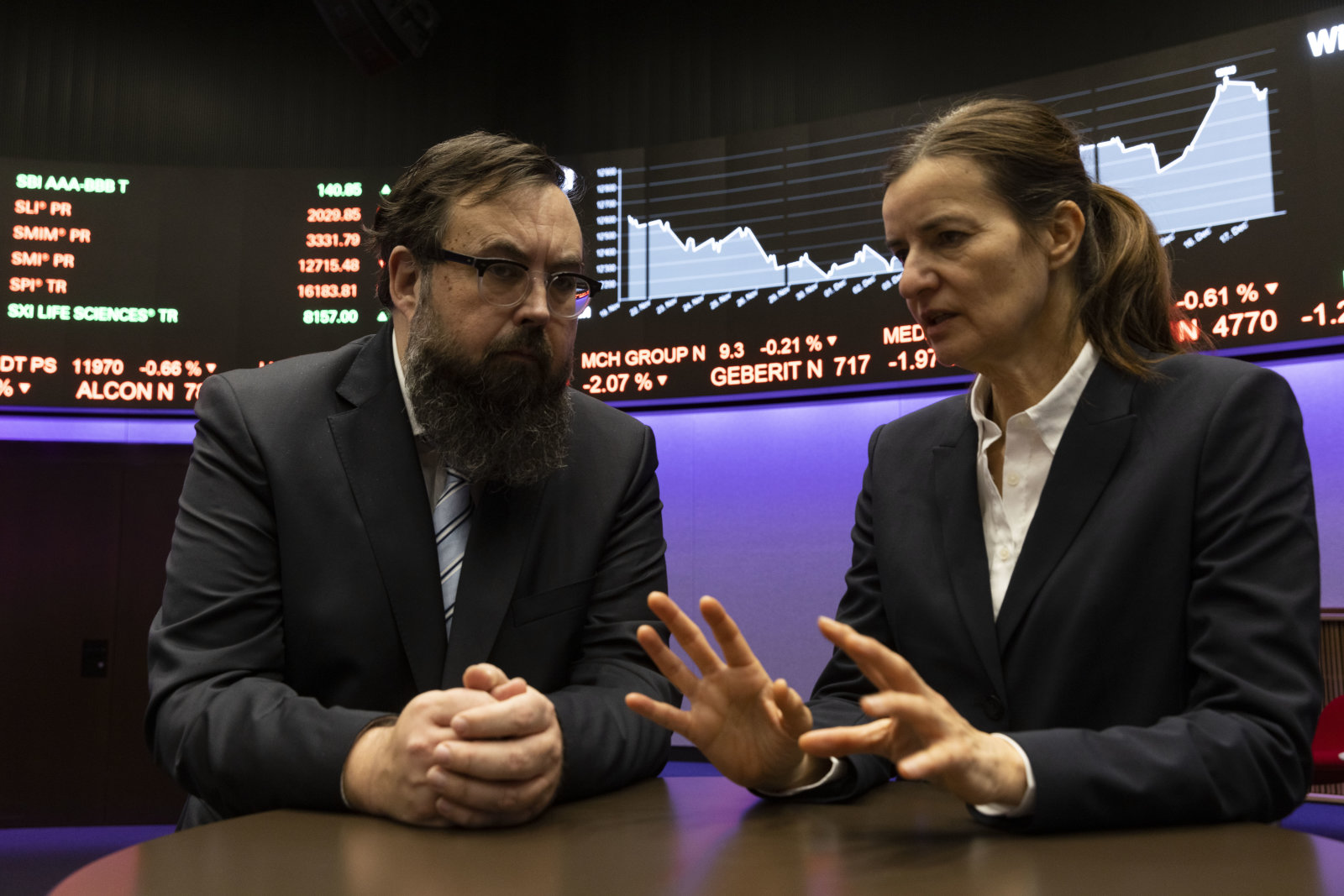 | | |
| --- | --- |
| Performance | Susanne Abelein, Andreas Storm |
| Text, project | Tim Zulauf |
| Sound | Nicolas Buzzi |
| Video | Yves Netzhammer |
| Direction | Collective |
| Drama | Andreas Storm |
| Model making and costume | Barbara Pfyffer |
| Assistents | Salome Bosshard, Matthias Kull |
| Production management | Lukas Piccolin |
| Pictures | Niklaus Spoerri |
| Online-Plug-In | Alexander Tuchaček. Performance: Vivien Bullert, Christoph Rath. Gaia-WeltExchange: https://tuchacek.net/gaia-weltexchange/ |
| | |
| --- | --- |
| "Börsen handeln" would like to thank the following interlocutors for their generous exchange of views | Prof. Marc Chesney (Professor für Finanzmathematik, Universität Zürich), Simone Kobel (Schweizer Finanzmuseum), Prof. Stefan Leins (Ethnologie mit Schwerpunkt Kulturen der Ökonomie, Universität Konstanz), Richard T. Meier (Direktor Zürcher Börse 1979–98, Direktor der SWX Swiss Exchange bis 2007), Prof. Josef Teichmann (Professur für Finanzmathematik, ETH Zürich), Raphael von Thiessen (Thinktank W.I.R.E.), Alexander Tuchaček (Künstler, ZHdK), Andrea Weidemann (Schweizer Finanzmuseum), Christoph R. Züllig (COO Private Alpha – AI Based Investments). Und für die freundliche Unterstützung der Kultur Stadt Zürich, Migros-Kulturprozent, ewz –Elektrizitätswerk der Stadt Zürich und RadioTrend AG/Lance Eichenberger. |
| Production | KMUProduktionen, Verein Zürich |
| Co-production | Gessnerallee Zürich, Schweizer Finanzmuseum |