Can we imagine living in one of the many places in the world that are underwater due to rising sea levels?
Technotropies of the otherwise takes as its starting point the Sundarbans mangrove forest in the Bay of Bengal, which extends over large parts of Bangladesh and India. According to climate forecasts, it will be completely flooded by 2050. Today already, as a result, thousands of people are forced to migrate. If the people in the Bay of Bengal had the possibility to breathe underwater, they would not have to leave their land and the land of their ancestors in case of flooding.
Two performers test this future myth on stage in Zurich and two in the Bay of Bengal. They create gills to inhabit the ocean. Their joint training activates forgotten body parts of our aquatic and more-than-human past. For the ocean to take us into every movement, head and body grow together and swallowing and breathing become one. Learning to look back with our noses and listen with our eyes, we find ourselves in a surging, breathing, rhythmic forest, where frequencies of «Drexciya»¹ reach us from 1 the aquatic future.
¹Created by the Detroit techno-duo of the same name, «Drexciya» is also a mythical underwater world populated by the descendants of unborn babies from the Transatlantic Slave Trade who have learned to breathe underwater. This myth also reverberates in the Gulf of Bengal, whose coastal lines and ecosystems were historically shaped and exploited by the interests of the British colonial power and is through cotton trade closely linked to the Transatlantic Slave Trade. We think that for future inhabitants of the ocean and their diverse earthly memories, the encounter with «Drexciya» is inevitable.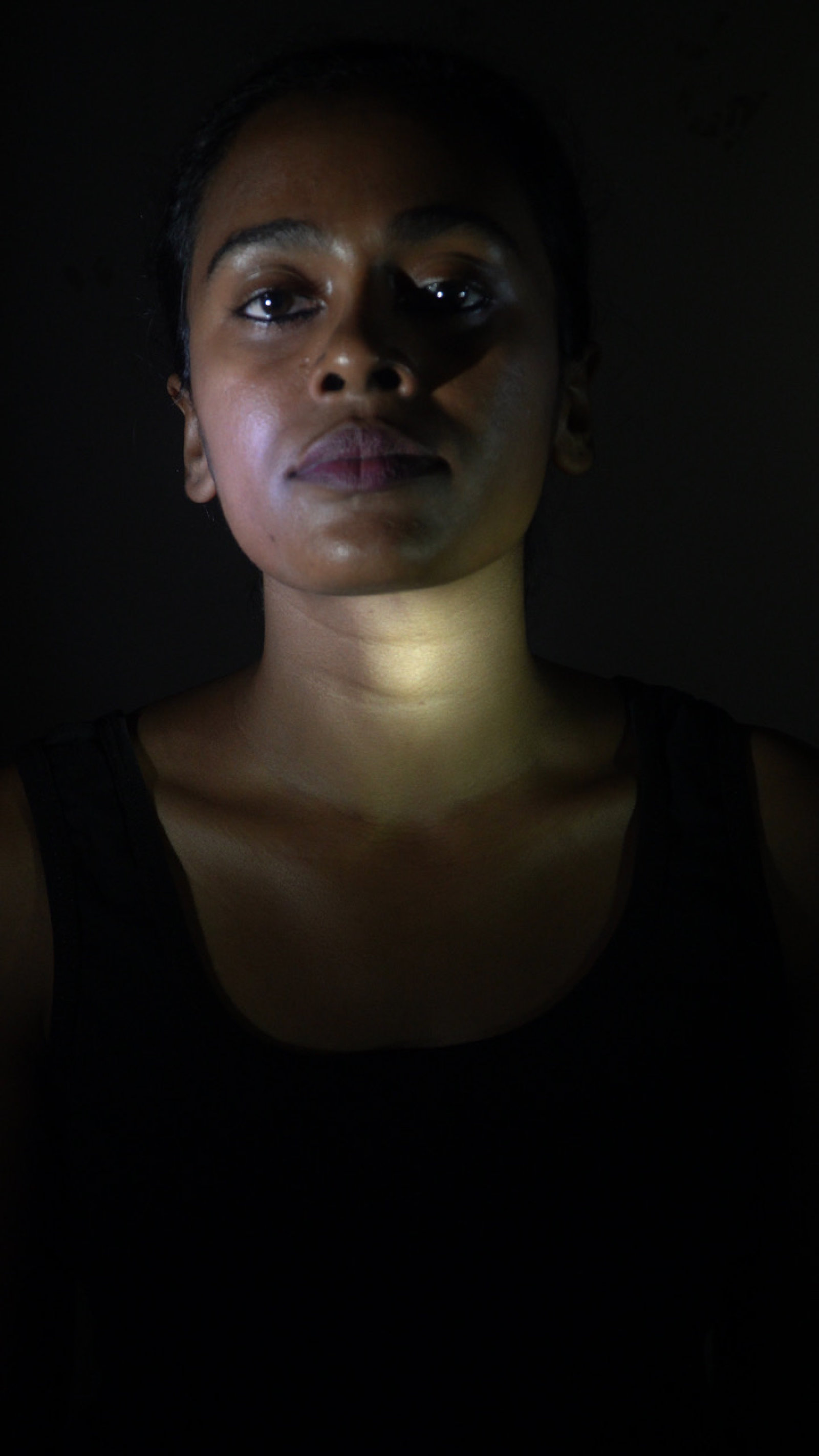 Technotropies of the otherwise. 2022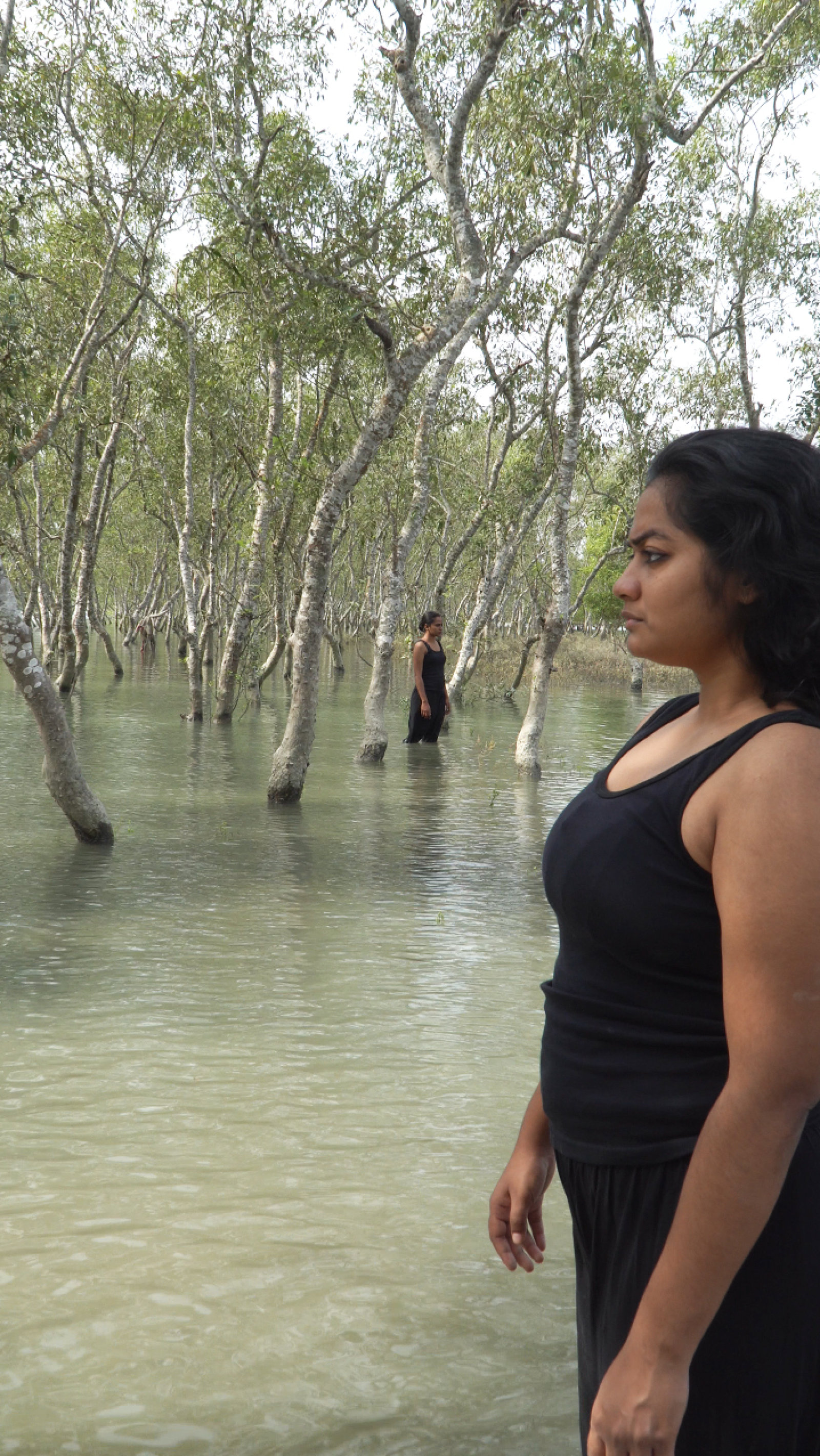 Technotropies of the otherwise. 2022
| | |
| --- | --- |
| Performance | Carisa Bledsoe, Malika Khatir (live) and Uma Banerjee, Satakshi Nandy (video) and André Veigas Pereira (sound) |
| Concept | Samrat Banerjee, Stefanie Knobel |
| Choreography, staging, space | Stefanie Knobel |
| Text, realisation India | Samrat Banerjee |
| Lighting design, movement feedback | Kai Simon Stoeger |
| Sounddesign | André Veigas Pereira |
| Camera | Ohida Khandakar |
| Oeil Exterieur | Rahel El Maawi |
| Production | Paula Fricke, Stefanie Knobel |
| Costume | Ružica Rajčić |
| Video assistance | Pina Köhler |
| Internship | Alma Nikokochev |
| | |
| --- | --- |
| Production | Verein sk*ein |
| Co-production | Gessnerallee Zürich |
| With the support of | Aargauer Kuratorium, Ernst-Göhner Stiftung, Fondation Nestlé pour l'Art, Stiftung Corymbo, Schweizerische Interpretenstiftung, Stadt Zürich Kultur, Südkulturfonds |